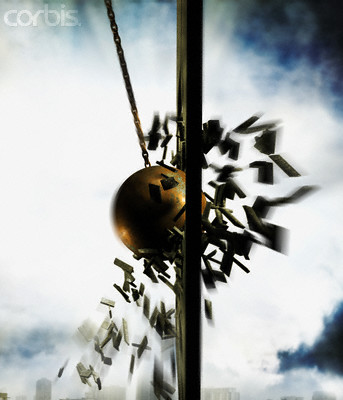 In August, when I made the decision to leave my job, I did so knowing that I had a really strong support system (and a solid savings) to lean on while I got my act together. I think a lot about how this knowledge, this security makes my experience so much different from many other people's.
I also know that because of this break in my continuity I have time to evaluate my life in a way most people don't get the chance to. It was easy after I had decided to major in English during undergrad to just get a degree in English, like it was easy to stay in DC once I had moved there, and to stay at my job because I had been there for so long. An object in motion tends to stay in motion just as an object at rest tends to stay at rest.
What happens when you stop an object's motion? When you suddenly insert that huge piece of movie studio glass always being carried around by two glove-wearing handy men and the object slams into it with all the force of a lifetime of sacrifice and commitment? What happens to a bruised object, startled and stopped; surrounded by shock and all that glass?
I guess it suddenly has choices it never saw before.
I'm not saying I have a whole lot of "choice" out there in the working world. This is not a candy store job market will wall to wall choices for anybody with a nickle. This is a job market where choice/interest/preference might be completely dissolved into experience/persistence/luck. But that lack of actual choice means that the unemployed can spend some time thinking about where they would be IF they did have all the choice in the world. To think about what steps might be needed to change careers, to start new endeavors, to relocate or re-educate.
No one wants to be unemployed (not even writers and artists no matter how much they claim to thrive off of Ramen and distress), but at least taking a moment to start picking up pieces of that glass, and maybe blinking your eyes two or three times to get your environment in focus can help you figure out if your original trajectory was really on target to begin with.